25 February 2021
8 am-9 am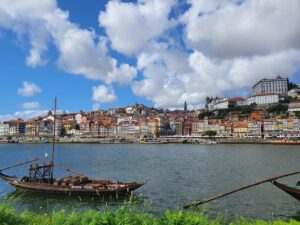 Portugal is an extremely fascinating and diverse country. Although small in size, this land still hides many secrets, and is much less frequently visited by tourists than other Mediterranean countries. It is a country of vast beaches and steep cliffs, romantic cities and atmospheric fishing villages, Moorish monuments and modern architecture.
During the meeting you will learn:
Why is Portugal called "the botanical garden of Europe"?
What is the meaning of the acronym 4x F, which is sacred to the Portuguese?
What is the connection between port wine and Porto?
What legacy did the Moors leave behind?
You will make a journey through the beautiful and still undiscovered Portugal with:
Monika Guzek – intercultural trainer, project manager and university lecturer. She coordinates strategic marketing projects and is responsible for introducing products into foreign markets and adapting them to the requirements of these markets. For the past 11 years, she continues to find fulfilment in the area of B2B and B2C marketing, actively supporting sales departments and adapting sales support methods to local customer preferences. She has gained extensive international experience: Monika has worked in Poland, Germany, China and Indonesia, and for the last two years she has been dividing her life between Poland and Portugal. Member of the Management Board of SIETAR Poland.
The meeting will be held in Polish.
To confirm your participation, please contact:
Timea Balajcza, timea.balajcza@balajcza.pl
tel.: +48 601 913 446