Date:
17.06.2021, 11:00 - 12:00
Location:
Online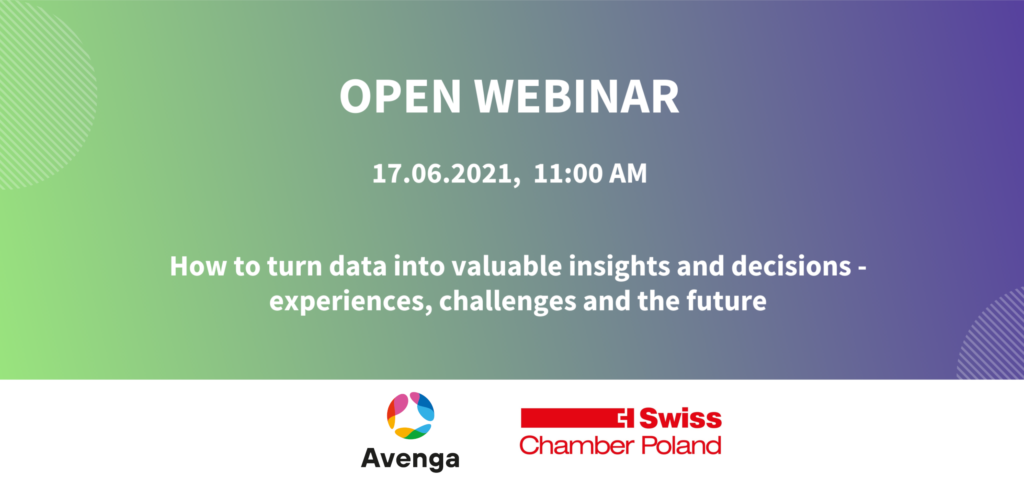 We cordially invite you to an open webinar, organized in partnership with 
Avenga
. The topic of the meeting will be "
How to turn data into valuable insights and decisions - experiences, challenges and the future"
.
The webinar will take place on 
June 17, at 11:00 AM 
on Zoom platform.
THE MEETING WILL BE HELD IN POLISH
.
Agenda:
1.Great expectations for data/AI projects
Sources and reasons
2.Reality check: the most common challenges and ways to deal with them
Reality of what is possible with data and technology vs. expectations
Giant leap approach for the projects
Availability and the meaning of data
Data quality
Data ownership and regulations
Resource shortage (Data, AI)
Underestimated maintenance
3. Vendor agnostic partners to help
Speaker:
Jacek Chmiel is head of Avenga Labs, a division of Avenga focused on technology research and trend analysis as well as innovative technology-oriented proof of concept projects with business partners. He has played every role in the production process (from developer to CTO), overseen complex projects and successfully created concepts for highly sophisticated software and consulting services.
If you are interested, please contact us at
mm@swisschamber.pl
Registration for this event is tantamount to accepting the
Regulations
.