Date:
23.11.2022, 11:00 - 11:45
Location:
Online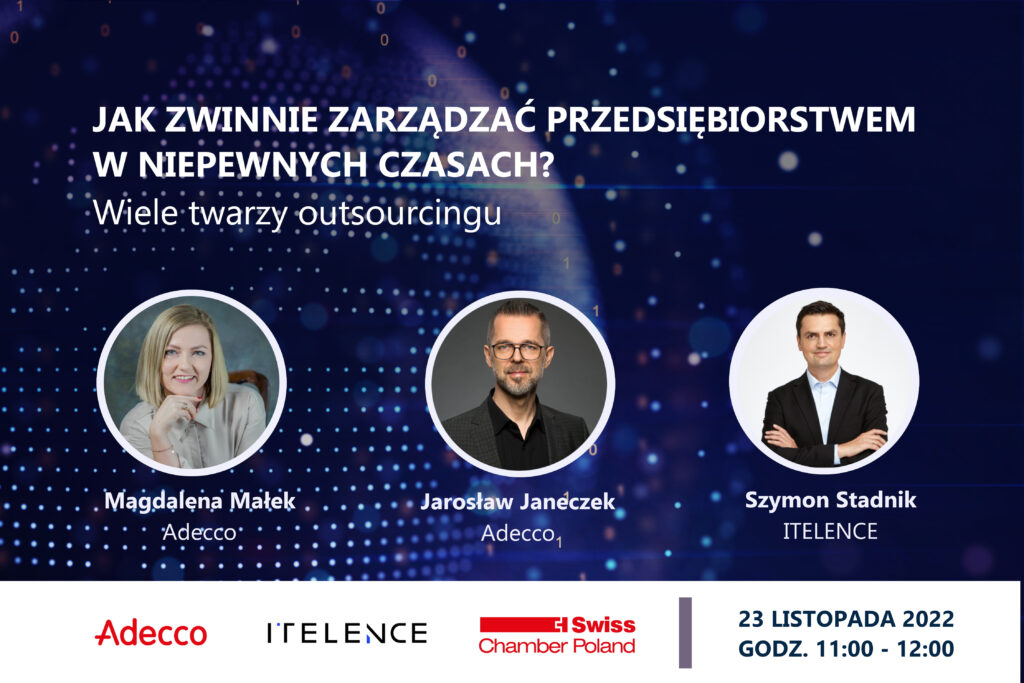 We invite you to a webinar
How to agile manage an enterprise in uncertain times? Many faces of outsourcing
. The speakers will be 
Magdalena
Małek
, Business Development Manager (
Adecco
),
 Jarosław Janeczek
, Business Development Manager (
Adecco
) and 
Szymon
Stadnik
, CEO (
ITELENCE
). The event will take place on 
November 23, 2022, 11:00 AM - 12:00 PM
and will be held in Polish.
REGISTRATION
We live in incredibly unstable times today. The COVID-19 pandemic from 2020, the war in Ukraine, or rampant inflation and economic instability. For many companies, running or continuing a business has become a challenge.
We cordially invite you to take part in our webinar, during which we will try to answer the question of how to agile manage a company in uncertain times? During our meeting, we will talk about the possibilities offered by outsourcing. We will try to explain the differences between outsourcing people and processes. We will also talk about various branches of outsourcing.
Thanks to participation in our webinar:


You will learn what are the possibilities in agile management of the enterprise in uncertain times


You will know the concept of outsourcing both people and processes


You will have a working knowledge of what marketing and sales outsourcing is, and what is IT outsourcing


Agenda:


What is outsourcing?


Outsourcing of people and processes


Marketing and sales outsourcing


IT outsourcing


This event is open and free to all participants, but we especially dedicate it to: Sales Directors, Key Account Managers, Trade, Brand or Product Managers, Directors and decision-makers in the area of ​​IT, e-commerce and Finance and Administration.
Registration for the event is tantamount to accepting the provisions of the
regulations
.