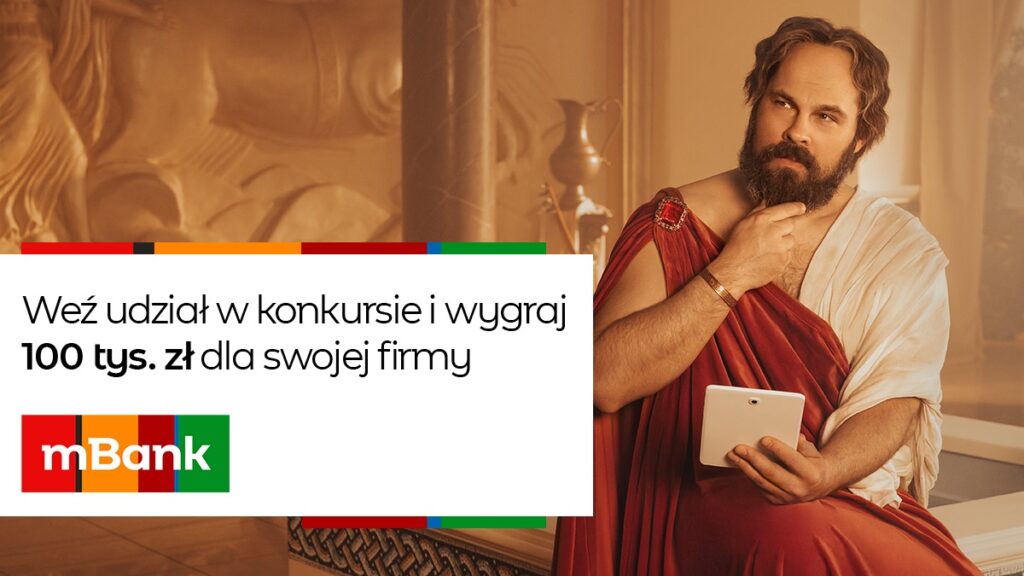 mBank has launched the second edition of the Digital Revolutions contest to find interesting ideas for an e-business and help implement them. The participants can win eight prizes worth a total of PLN 300,000. This year, Maciej Filipkowski, an experienced manager and businessman who hosts the "Zaprojektuj Swoje Życie" ("Design Your Life") podcast, is responsible for the supervision over the revolution. You can find the contest application form at cyfrowerewolucje.pl.
 A year after launching the contest for small and medium-sized companies for the first time, mBank will help several participants to kickstart their e-commerce business again. The second edition welcomes companies with a turnover of up to PLN 50 million (in two categories: companies with a turnover of up to PLN 10 million, and from PLN 10 million to PLN 50 million), which have not launched their e-business yet or are new to it. The participants can win two prizes worth PLN 110,000 each, and six extra prizes worth PLN 19,000 each.
All you need to win is a good idea for an online business. The tools necessary to make your idea come to life are available in the prize package, including the project and setup of an online store, year-long legal assistance, a private e-commerce strategy training, e-marketing support, and free logistics services. The two winners of the main prizes will also be mentored by Maciej Filipkowski throughout the duration of the digital revolution, and will be invited to his podcast "Zaprojektuj Swoje Życie".
Contest application forms can be submitted at cyfrowerewolucje.pl/konkurs until 21 July 2021. The winners will be announced on 23 August. They will be selected by a board of experts in various fields related to e-commerce, including Maciej Filipkowski, business mentor, Joanna Rogosz, sales manager at Ceneo, Ewa Opach, head of certification and education at IAB Polska, and Łukasz Zembowicz, head of sales and marketing and member of the management board of DPD Polska.
Partners of the contest are: Ceneo, Cube, DIMAQ, DPD Polska, IdeoForce, Gessel, Lex Secure, mElements, Samito, Sky Shop. The main prizes are funded by MasterCard, the strategic partner of the contest.
The contest is part of mBank's social campaign Digital Revolutions, which helps micro, small and medium-sized companies to develop their e-commerce business. The focal point of the campaign is the educational website cyfrowerewolucje.pl, which is a comprehensive source of knowledge on online business. More than 500 companies competed in the last year's edition of the contest.
Take part in the contest and win PLN 100,000 for your company.