Thursday, 9 June 2022
11 am-12 pm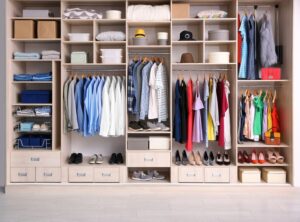 If:
you want to spend your mornings quietly drinking coffee instead of nervously searching through your closet for things that fit,
you no longer have the strength or desire to go shopping in the mall after work or you get lost in the maze of stores,
you have clothes in your closet that you don't wear even though they cost a lot of money,
you prefer to buy less often, but good quality items,
you want to look good but spend the minimum amount of time and money on it,
then the "Business Lego Closet" workshop is just what you need. It will solve your clothing problems and make you feel great in your own skin.
When you look stunning and feel good about your image, your confidence grows. And that makes you feel you can achieve anything!
I dedicate this workshop, which I have the pleasure of hosting thanks to the courtesy of Balajcza Linguistic Services, to all those who have to leave their home every morning and commute to their workplace.
The "lego closet"  is for those who, when standing in front of their wardrobe in the morning, tend to think "I don't have anything to wear".
Thanks to this workshop, your style will flourish and it will be easier for you to choose the right outfit for work. You will look elegant and professional, and you will no longer waste your morning trying to select the right set of clothes. You'll learn how to do it in half the time it takes you now.
The workshop will cover basic clothing and accessories to help you build a style for work.
Also, you will:
stop buying clothes you won't wear,
not struggle with matching clothes every day,
look great and feel confident in any situation,
learn how to plan your clothing expenses without feeling guilty about it.
Workshop agenda:
What is a "lego closet" and why is it worth having one?
How do you know if this solution is for you?
Ways to create the perfect content of your closet
The advantages and disadvantages of owning a lego closet
Take a step towards minimalism – key elements and proportions in your closet
Women's and men's "lego-closet"
Practical ways to plan your fashion budget
The workshop will be conducted by:
Iwona Sasin – engineer and image coach, graduate of the Faculty of Textiles at the Łódź University of Technology and Université de la Mode, Université Lumière Lyon 2 at the Faculty of Communication in the Fashion and Luxury Industry.Iwona gained her professional experience in France, working with the style agencies of Nelly Rodi, Peclers and Martine Leherpeur, among others. She is a fashion industry practitioner. She has extensive international experience: she has worked in France, Italy, Germany, UK and Sweden. She provides strategic planning and production management at every stage for international fashion brands. She writes about fashion and style, and coordinates conferences, trainings and workshops for clients on image-making projects. She adheres to the principle of "sharing is caring". She feels best when what she does allows others to grow. She values human-centred action the most. She does fashion drawing, creating original prints. She covers fabrics, leather, natural stone surfaces (quartz, alabaster) and plastics with her designs.
The meeting will be held in Polish.
To confirm your participation, please contact:
Timea Balajcza, timea.balajcza@balajcza.pl
tel.: +48 601 913 446
Please be informed that the participation in the "Online Breakfast with BALAJCZA" and "Online Workshops with BALAJCZA" is tantamount to consenting to the use and dissemination by the organizer, i.e. BALAJCZA sp. z o.o. (KRS 0000659805), of the image of the persons participating in the "Online Breakfast with BALAJCZA" and "Online Workshops with BALAJCZA" provided for in Article 81 of the Act of February 4, 1994 on Copyright and Related Rights.

By signing up for the webinar, you consent to receiving marketing information from BALAJCZA sp. z o.o. and the processing of personal data in accordance with the Data Protection Policy published on the website balajcza.pl