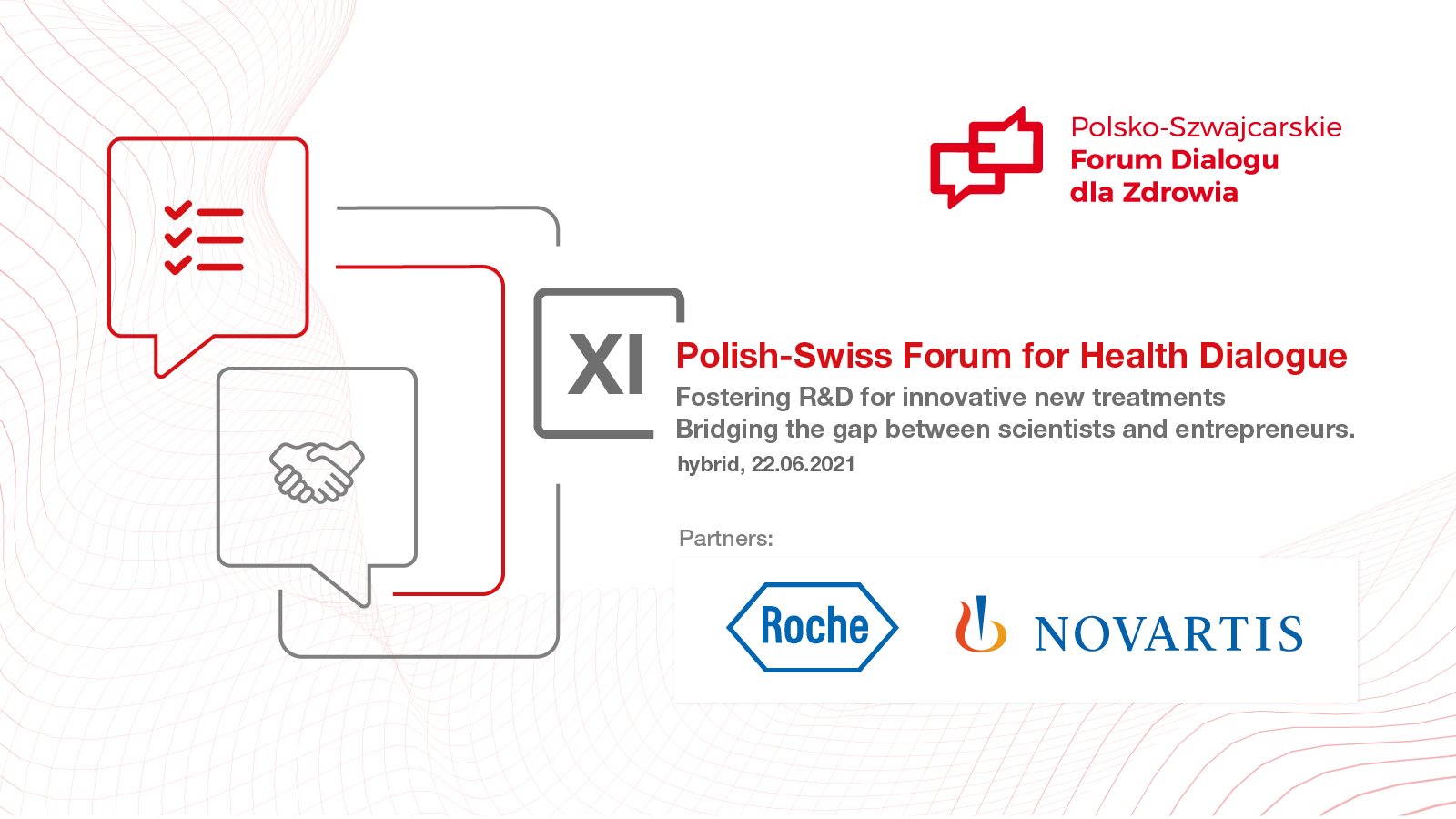 On Tuesday, June 22, 2021, the 11th Polish-Swiss Forum for Health Dialogue took place. The event was held under the patronage of the Ministry of Health and the Ministry of Development, Labor and Technology.
The title of the conference was:
Supporting research and development in the field of innovative new methods of treatment – bridging the gap between the world of science and business.
The conference was opened by the honorary guest of J.E. Juerg Burri, Ambassador of Switzerland in Poland, together with Michał Stępień, President of the Polish-Swiss Chamber of Commerce.
Among the speakers there were outstanding representatives of the world of science and business:
– Piotr Arak, Director of the Polish Economic Institute,
– dr Piotr Dardziński, President of the Łukasiewicz Research Network,
– dr Bart Dzikowski, Managing Director of Novartis Venture Fund,
– Neil Goldsmith, Director Strategy BaseLaunch
– drLiliane Brunner Halbach, International Health Expert,
– prof. Jacek Jemielity, President of ExpoRNA Therapeutics,
– Jan Krzewiński, President of the Management Board of Polpharma Biologics Gdańsk,
– Jordi Montserrat, Co-founder and Managing Partner at Venturelab,
– dr Radosław Sierpiński, p.o. President of the Medical Research Agency,
– dr Michał Walczak, – Co-founder and Scientific Director of Captor Therapeutics,
– dr hab. med Michał Wszoła, transplant surgeon, President and Founder of Polbionica,
– Irma Verberič, General Manager Roche.
The meeting was moderated by Pablo Padrutt, Head of the Economic, Financial and Scientific Section at the Swiss Embassy in Poland, and Ulrich Schwendimann, Managing Director of the Polish-Swiss Chamber of Commerce, while the panel discussion was chaired by dr inż. Agnieszka Sznyk, President of the Management Board of INNOWO.
Recordings and press articles will soon be available on the conference website.
We also invite you to view photos from the conference.
The organization of the Polish-Swiss Forum for Dialogue for Health was possible thanks to the support of Roche Polska. We also thank our Partner Novartis Poland for the support for the conference.