Date:
20.10.2022, 10:00 - 11:00
Location: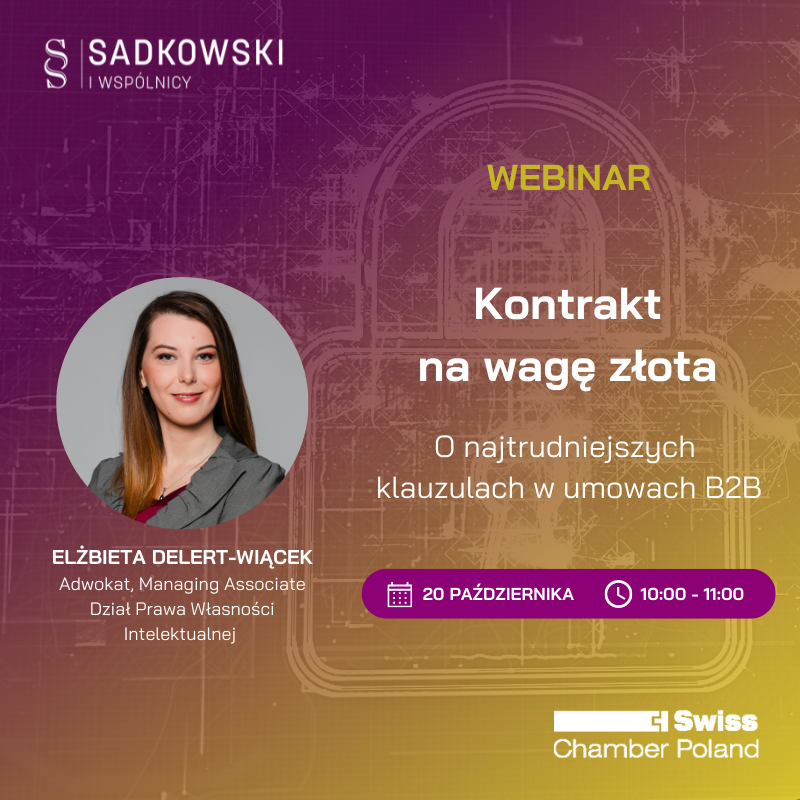 Agreements with contractors and associates do not always protect the interests of entrepreneurs, know-how or confidential information. The Polish-Swiss Chamber of Commerce together with the Law Firm Sadkowski i Wspólnicy is organizing a free webinar entitled:
"A contract worth its weight in gold. About the most difficult clauses in B2B contracts "
.
The webinar will be conducted by Elżbieta Delert-Wiącek - Advocate, Managing Associate in the Intellectual Property Law Department of Sadkowski i Wspólnicy.
During the webinar, an intellectual property expert will discuss the following topics:
Non-competition in B2B contracts
Protection of confidentiality in B2B contracts
Securing copyrights in B2B contracts
Dates
: October 20 (Thursday), 10: 00-11: 00
Formula:
online (Zoom platform)
Participation:
free
Language:
Polish
The webinar is dedicated to all entrepreneurs, especially from the IT and new technologies industry, who want to protect themselves against the negative consequences of wrongly formulated contracts.
If you are interested in participating in the webinar, please register at the following link:
REGISTRATION
If you have any questions, please contact us: mb@swisschamber.pl