Date:
08.03.2021, 13:00 - 15:00
Location:
Online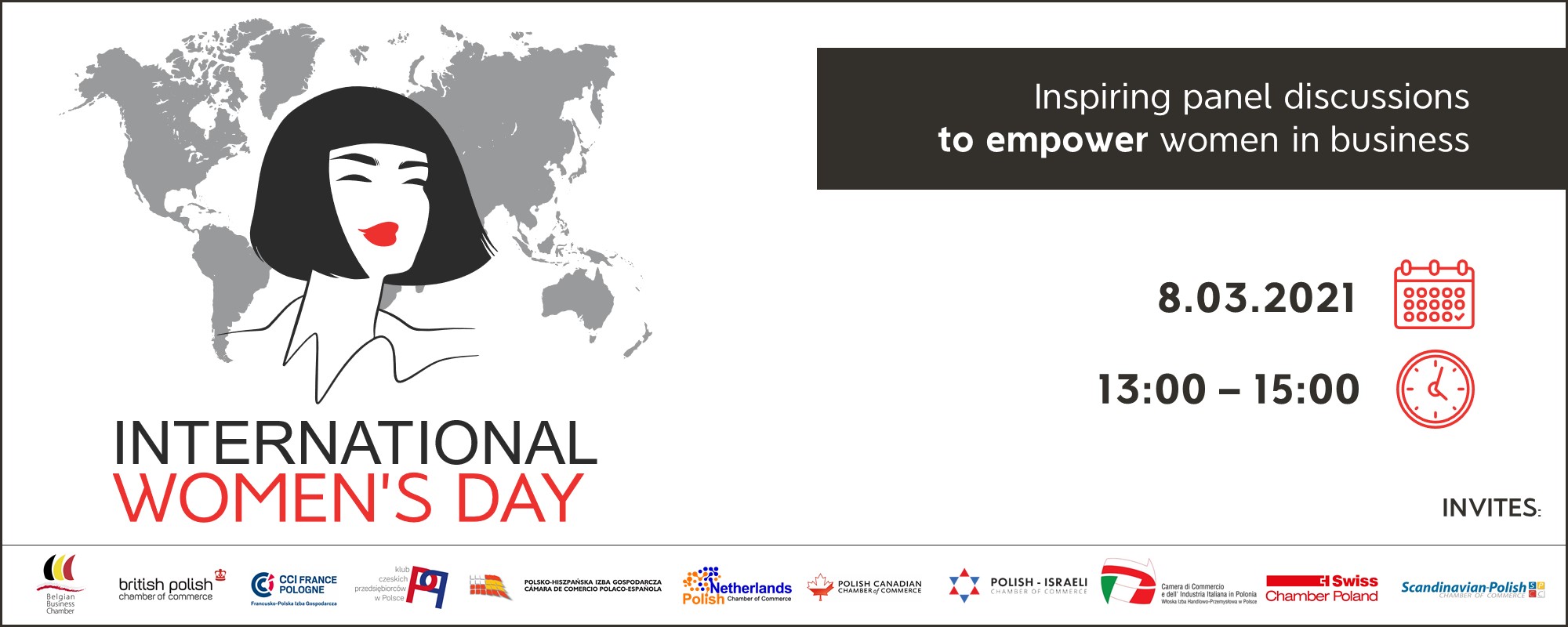 The idea of the International Women's Day in 2021 is to propose a discussion on relevant subjects and give all Women power and ideas to carry on during these untypical times. During the event we will discuss, among others, changes and challenges for women in the labor market caused by the pandemic, the impact of the pandemic on human relations, women in business and technology.
If you are interested in taking part, please contact: mb@swisschamber.pl
Agenda
12:40 - 12:55
Registration
12:55 - 13:00
Short introduction to the Hopin platform
13:00 - 13:15
Official opening and welcome speech
13:15 - 14:00
Main panel discussion: Can women keep work-life balance during Covid? The pandemic's impact on women entrepreneurs and women's careers.
Panelists:
• Anna Wicha, Adecco Group
• Vice - Minister Ms.Barbara Socha, Ministry of Family and Social Policy
• Together for Diversity in business initiative
• Joanna Matras, Caixabank
• Martyna Marciniszyn, United Parcel Service (UPS)
Moderator:
Pierre Detry, President of the BBC, BZen Bikes
14:00 - 14:15
Q&A
14:15 – 15:00
Simultaneous panel discussions:

1.
Women in Tech – successes and challenges
14:15 – 14:20 – welcome speech
14:20 – 14:50 – panel discussion
Panelists:
• Allie Knull Founder & CEO, ResumeFree
• Katarzyna Pąk, Ericsson
• Małgorzata Ratajska-Grandin, OVHcloud
14:50 – 15:00 – final remarks and closing the panel discussion
Moderator:
Dominika Walec Foundation Supporting #OMGKRK

2. Nurturing our relationships during the coronavirus pandemic
14:15 – 14:20 – welcome speech
14:20 – 14:50 – panel discussion
Panelists:
• Szymon Niemiec, psychologist in Harmonia Clinic LuxMed
• Anna Pfejfer-Buczek, Transition Group
• Anna Schmidt, Kevin Is Not Alone
14:50 – 15:00 – final remarks and closing the panel discussion
Moderator:
Christian Dekoninck, Management Center Europe

3. International Networking - a panel discussion of Benelux Embassies
14:15 – 14:20 – welcome speech
14:20 – 14:50 – panel discussion
14:50 – 15:00 – final remarks and closing the panel discussion
Moderator:
Pierre Detry, President of the BBC, BZen Bikes