Date:
30.05.2023 do 02.06.2023
Location:
Międzynarodowe Targi Poznańskie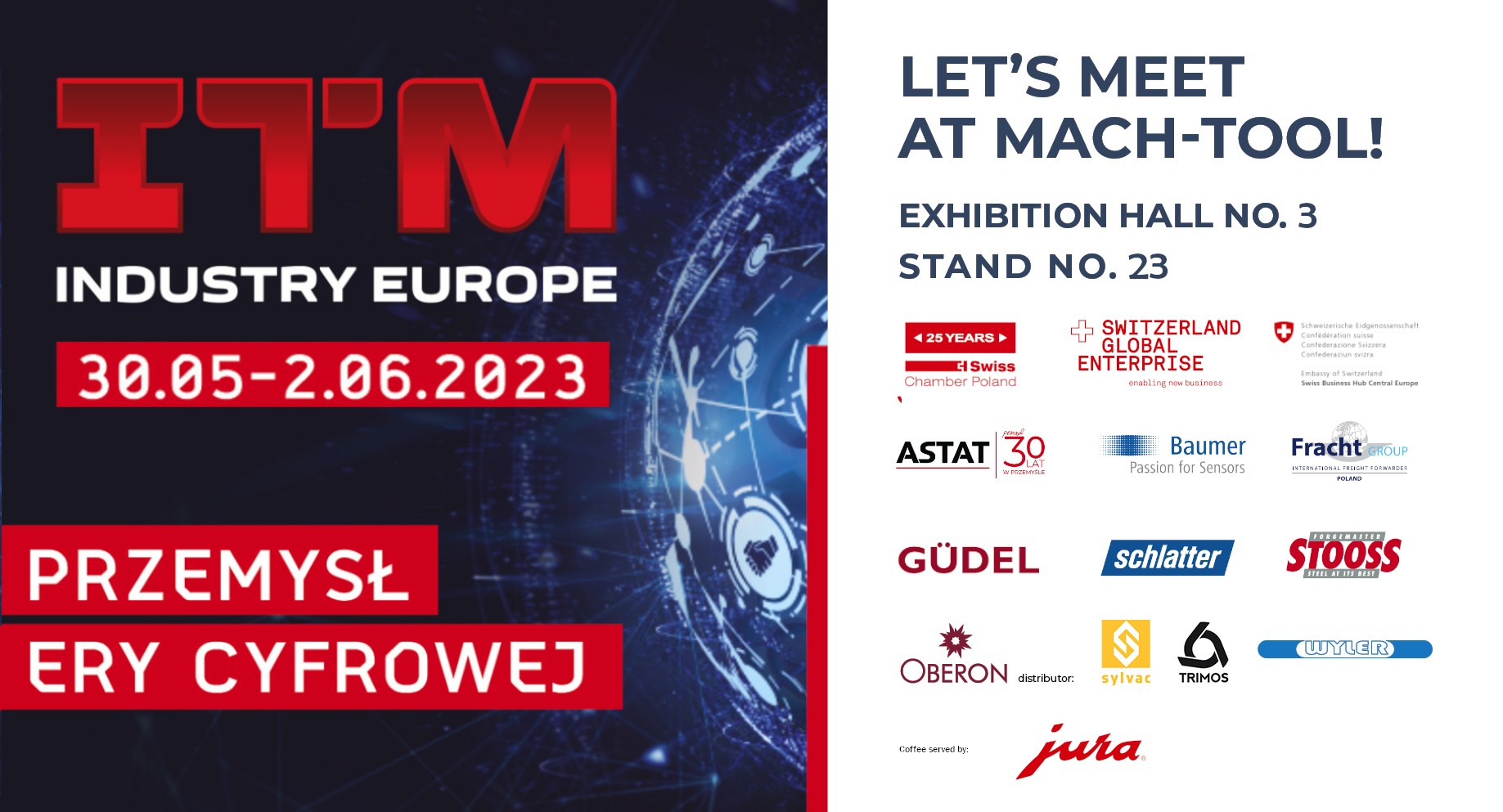 It is with great pleasure that we invite you for the next, already
11th edition of the Swiss Pavilion at the ITM Industry Europe fair at the MACH-TOOL showroom.
The fairs will be held on
May 30 - June 2, 2023 in Poznań
. According to tradition, we will carry out this project together with Swiss Business Hub Central Europe.
This year among the Exhibitors will be:
Astat Sp. z o.o
., 
Baumer Sp. z o.o
., 
Gudel Sp. z o.o
.,
 Fracht FWO Polska,
Oberon Sp. z o.o.
 (marki: Sylvac, Trimos, Wyler), 
Schlatter Industries AG
, 
Schmiedewerk Stooss AG
.
Coffe will be served traditionally by  
Jura Poland
We invite you to read the e-brochure about this year's Pavilion:
Mach-Tool 2023 | Exhibitors
What is the Swiss Pavilion?
The pavilion is an exhibition space for Swiss companies, organized in such a way as to maximize the opportunities for exhibitors to present themselves in an attractive way, while relieving the organizational and cost burden. Each Exhibitor has his own space, but can also use the common area and other organizational facilities. The pavilion is organized by the Polish-Swiss Chamber of Commerce and the Swiss Business Hub Central Europe.
Why is it worth being part of the Swiss Pavilion?
- emphasizing the "Swissness" of the company and good visibility of the stand in the hall
- good company of other Swiss companies
- common area and catering available to Exhibitors
- minimizing the organizational burden - the entire organization is the responsibility of the Swiss Chamber and Swiss Business Hub Central Europe
- sensational ratio of the effect to the costs incurred
We invite all interested parties to contact us: mb@swisschamber.pl