Polsko-Szwajcarska
Izba Gospodarcza
C-type Ambulance for Kharkiv
Wybrana lokalizacja
Różne lokalizacje
status: zakonczony
termin: 03.22 - 03.22
partner: Polsko – Szwajcarska Izba Gospodarcza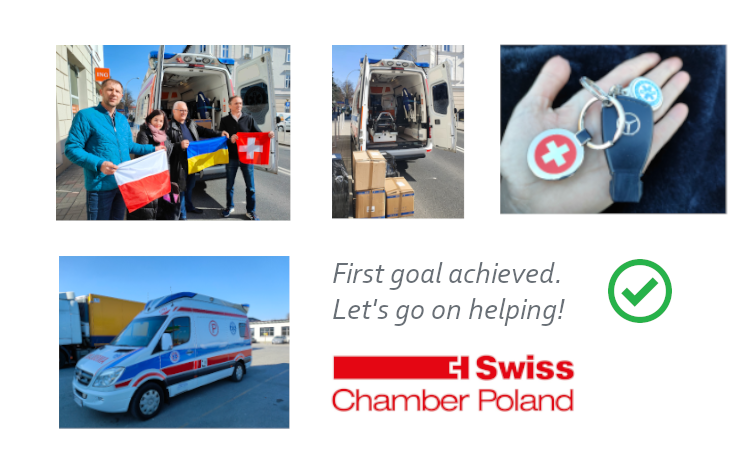 The Polish – Swiss Chamber of Commerce has been raising funds among its members for the purchase of C-Type Ambulanse for a hospital in Kharkiv. This beautiful goal has been achieved within days!
The ambulance has been handed over to the representative of the City of Kharkiv and now it is used to save lives of Ukrainian citizens.
We are very grateful to all private individuals and companies that supported our initiative. It is thanks to your extraordinary generosity that the ambulance will be able to save the life and health of the inhabitants of Kharkiv:
Thank you: Sandoz Polska, Ewopharma, Franz Elkuch AG Kunststoffwerk, Geberit Polska, Schindler Polska, Rotho , Belimo Siłowniki SA, VISIONAPARTMENTS, Piotr Augustyniak, LL.M.,MBA,TEP, Katarzyna Nosal and Partners from KPMG Switzerland, Piotr B., GF Piping Systems Polska and all other Donors.
We would also like to thank our Social Partner, the Hearty Foundation, which took on the burden of formalities related to the collection – Alicja Magiera-Bąk thank you for the great professionalism, endless patience and constant support in the implementation of the project!
Grate thanks also the Polsko-Ukraińska Izba Gospodarcza and the @Fundacja Iustus, who ensured contact and handing over the ambulance to the City of Kharkiv. Dariusz Szymczycha, Mariusz Tywoniuk and @Krystian Czepiel – thank you! We also thank Rafal Kijonka for information support and Marcin Górski from the company Emergencia 2 Pogotowie Medyczne for assistance in purchasing of the ambulance.