Polsko-Szwajcarska
Izba Gospodarcza
warM Ukraine. Power generators for hospitals
Wybrana lokalizacja
Różne lokalizacje
status: w toku
termin: 11.22 - 02.23
partner: Fundacja Forum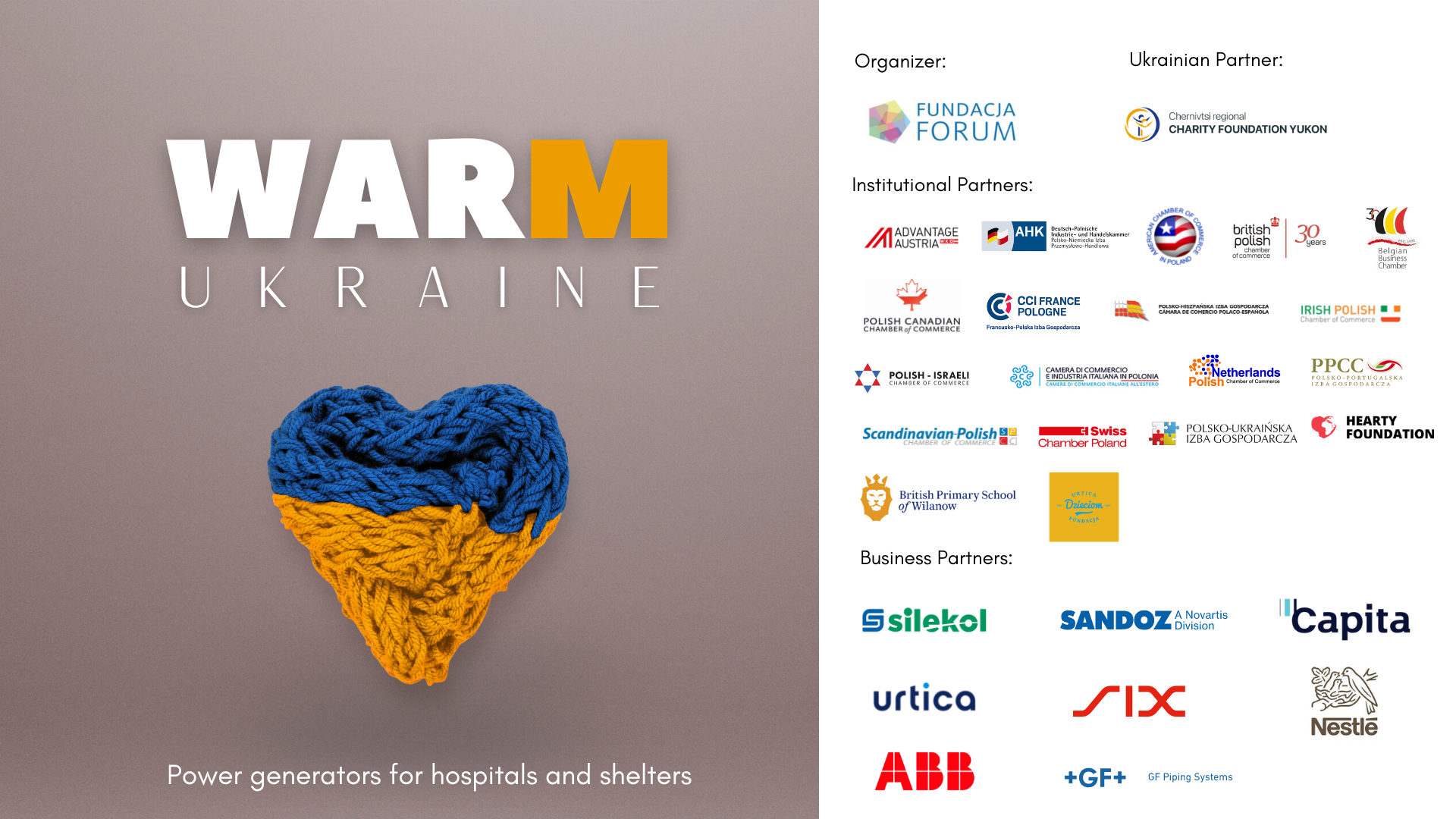 Following Russia's recent attacks on energy infrastructure, many hospitals, orphanages and refugee shelters have lost their ability to heat their rooms.
From our friends at the Chernivtsi Regional Charity Foundation Yukon, we got the news of the desperate situation of two local hospitals: City Clinical Maternity Hospital No. 2 and Chernivtsi Regional Psychiatric Hospital (where the children's ward, intensive care ward and general ward are currently without heating.) Let us not allow winter to become another tragedy of our friends!
Forum Foundation and Polish – Swiss Chamber of Commerce initiated the warM Ukraine action, which has been joined by 15 other bilateral chambers of commerce and several companies.
The first aim of the warM Ukraine campaign is to raise funds for the purchase of four 100kW power generators, which will be donated to the above-mentioned hospitals. The cost of 4 power generators and transport is estimated at 400 000 PLN (80 000 EUR). After achieving the first goal, we will continue to raise money for other hospitals and aid institutions.
The scale makes the difference! Even the smallest payment is worth its weight in gold. Join the fundraiser and share information about it on your social media.
Please jon the fundraiser by clicking the following link: warM Ukraine
DONNATIONS FROM ABROAD: You can donate with PayPal in USD, EUR or CHF:
FOR COMPANIES: It is possible to conclude a donation agreement with the FORUM Foundation. If interested, please contact: mb@swisschamber.pl. If donation is not possible at the moment, sending a donation link to your employees will be of great help. Thank you!
LATEST NEWS:
The first 120kW power generator is already in use by the Chernivtsi Regional Psychiatric Hospital . We are very happy, that we could achieve this great goal together. Another big generator has been promissed to this hospital by another entity, which means, that the needs of the hospital can be considered as covered.
We are also waiting for the confirmation of delivery of a 120kW generator to the City Clinical Maternity Hospital No. 2, which has been bought by a swiss company. The transportation is beeing arranged right now.
The first goal of our campaign has been achieved! But we keep going – soon we will share with you some more good news about next generators!