Date:
20.04.2023, 18:00 - 19:00
Location:
Radisson Blu Hotel Sopot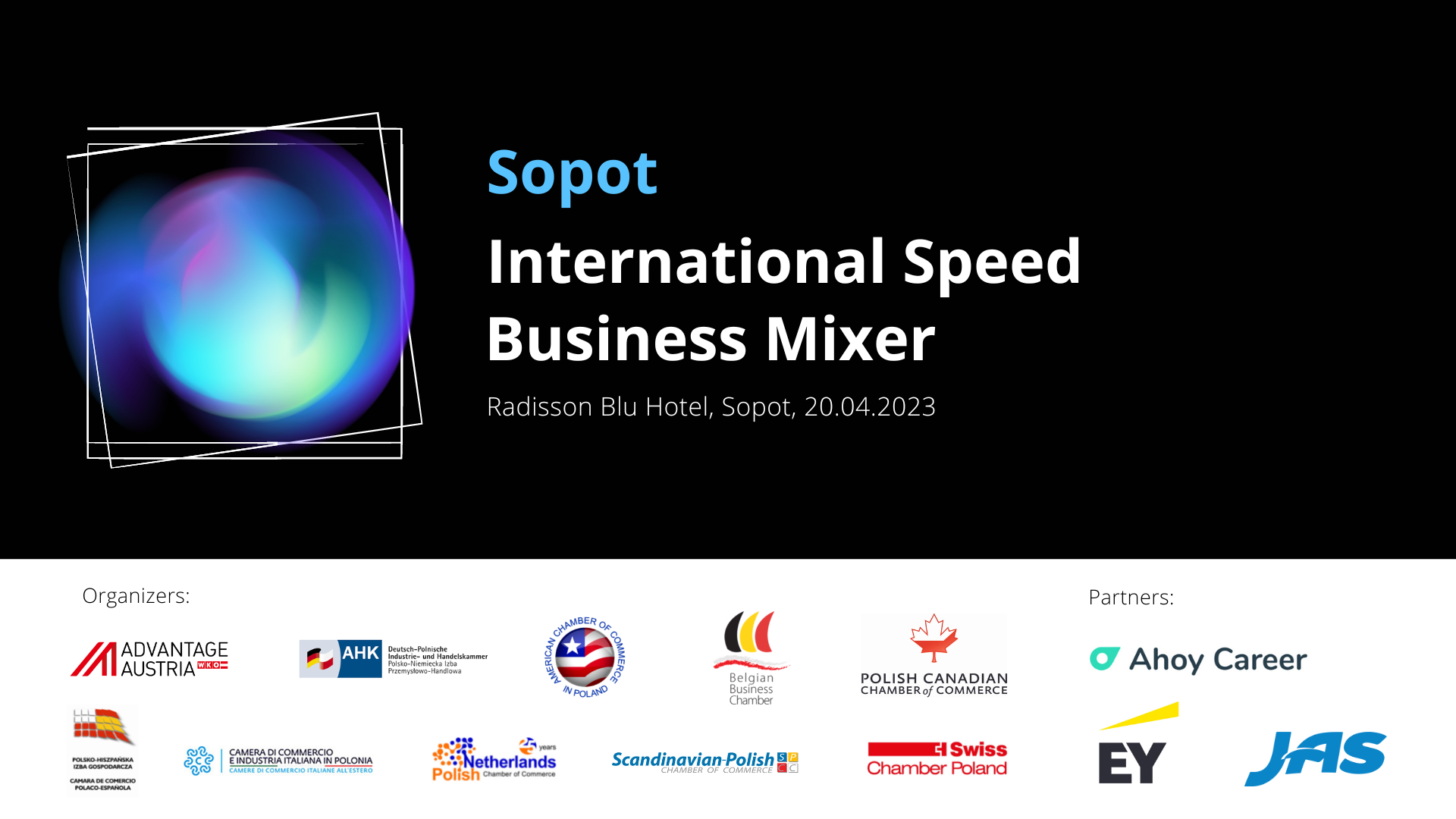 We cordially invite you to the
Sopot International Speed ​​Business Mixer
, which will take place at the Radisson Blu Hotel in Sopot on April 20, 2023 from 6.00 pm to 9.30 pm. This event is co-organized by 10 bilateral chambers associated in the International Group of Chambers of Commerce.
Speed ​​Business Mixer is the only formula where companies can reach a very wide range of business recipients with their offer thanks to cooperation between ten international bilateral chambers.
Become a partner of this event! If you are interested, please contact mb@swisschamber.pl
Agenda:
18.00 - 18.20 - Welcome of participants and debate of Sponsors
- a chance to reach a selected group of recipients, decision-makers in companies.
18.20 -19.35 - Speed ​​Business Networking
- a series of direct meetings during which you will have the opportunity to briefly introduce your company, talk about the services offered and sought, exchange
business cards, make new contacts, acquire new customers, suppliers, investors, etc. Each registered participant is assigned to several groups in which he will meet with other 9 people. Each group session lasts approximately 20 minutes. After the end of the session, at the signal, the participant changes to the next group previously indicated to him. It is a unique networking formula that allows you to gain many contacts in a short time.
19.35 - 21.00 - Business Mixer Cocktail
- this part of the meeting will give you the opportunity to continue the conversations initiated during Speed ​​Business Networking and make new friends with other participants of the meeting, who are presidents, directors, members of the management boards of associated companies, business developers. The goal of Business Mixers is to create opportunities for affiliated companies to establish new business contacts and to strengthen existing ones in a less formal atmosphere
For member companies of the Swiss Chamber, participation in the event is free of charge.
If you are interested, please register at the link below:
REGISTRATION
Registration for the event is tantamount to acceptance of the terms of the
REGULATIONS
. If you have any questions, please contact us: mb@swisschamber.p